West Geauga Kiwanis Welcomes New Members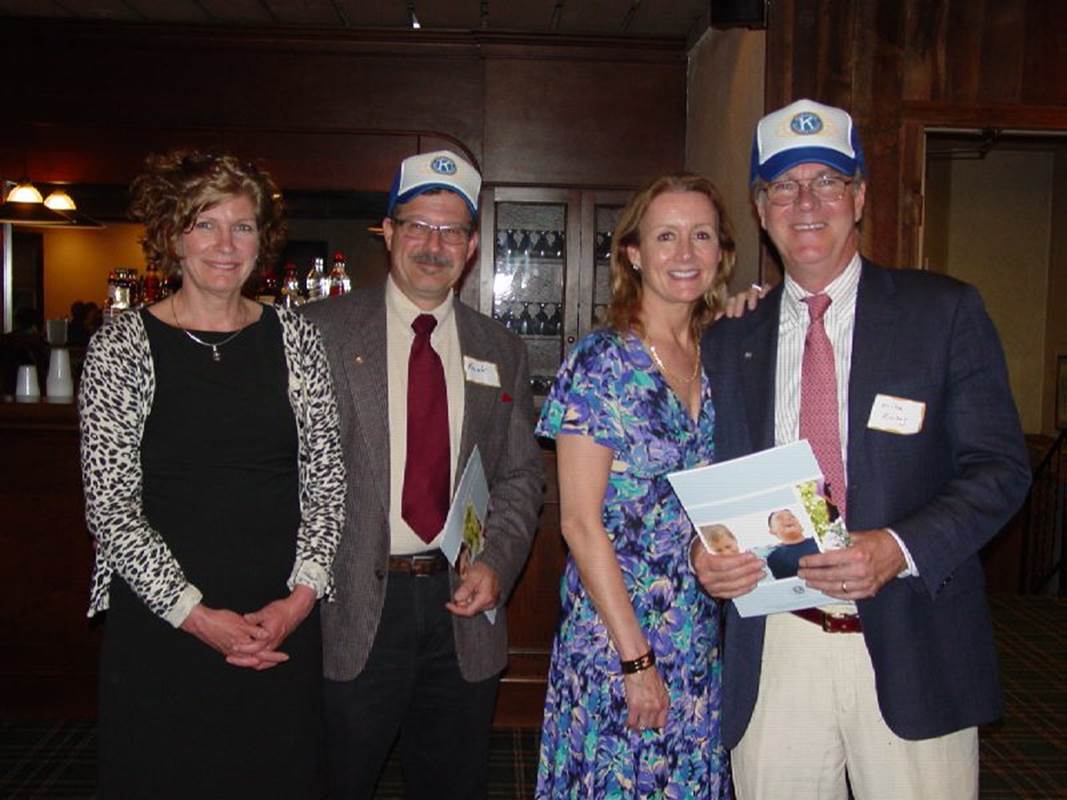 Left to right: Marybeth and Frank DiVito, Maureen and Mike Kilroy
My wife and I were married 27 years ago, and this is when my life really began. We knew each other at Brush High School as friends, but it was not until 10 years later that we were reunited and married. At the time, I was waiting to go to Officer Training School for the Air Force, and our marriage was immediately tested when I was assigned to a 4 year stint in Clovis, New Mexico. Since that time, we have lived in Columbus, OH; Aurora, OH; Buffalo, NY; South Euclid, OH and finally settled in Chesterland about 3 years ago.
I have two bright young ladies for children. Leah is a second year student at Ohio State and Claire will start at De Paul in Chicago next fall. These two are amazing to me with their over the top beauty, artistic and academic skills. They got most of this from their mother which I'm sure most of you would figure out soon anyway.
With my girls leaving the nest and getting settled in to a new town, I decided to check out the Kiwanis as a way to "give back" to the community. It has been a lot of fun so far and I look forward to many years of your friendship and camaraderie.
Lived in Chesterland since 1995. Grew up in Northeast Ohio. Graduate of University School 1975, I went to Yale 1979,
graduated UVA Business School 1983. Worked for IBM for 7 years and in family Business since 1987.
5th year West Geauga School Board, member of St Anselms Church.
Married to Maureen we have her 2 children Dana and Matthew and My 2 children Taylor and Devon.
Taylor attends Rochester Institute of technology and Matthew is at Ohio State.
Have also been involved in Scouting for the past 10 years - Pack and Troop 193
I am president of Koldweld LLc and Koldweld Holding Co Inc.

Dec 11, 2012 Xmas dinner and Induction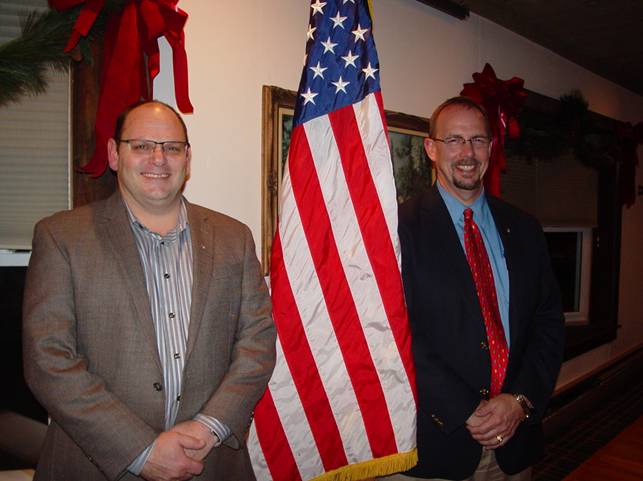 Chris Bukvic (L)
Chris and his beautiful wife Laurie will be celebrating their 25th wedding anniversary Oct 10, 2012: "We moved to Chesterland 23 years ago and never left."
He has worked at Kennametal Inc. for the last 19 years, and a year ago took a position in the design engineering group. "I enjoy golfing with friends even though I am not very good - it's all about being with friends and having a good time. I also enjoy fishing, mostly wading thru the rivers of northeast Ohio for Steelhead Trout. After it's all said and done nothing beats sitting in the hot tub with a cold beverage."
Geoff Palmer (R)
Geoff Palmer is our new West Geauga School Superintendent, and a new Kiwanis member. Born in Sandusky, Ohio and a graduate of Sandusky St. Mary's Central Catholic and Bowling Green State University for both bachelors' and masters' degrees.
He is married to a lovely wife Jodie and has three sons:
Blake, currently working for Huntington Insurance in Findlay, Ohio;
Jude, a sophomore at the University of Michigan; and
Tory, a junior at West Geauga HS.
His previous experience in education includes high school business teacher, head basketball coach, technology coordinator, dean of students and high school principal at various schools in NW Ohio. He served nine years as superintendent of Hopewell-Loudon Local Schools in Seneca County prior to accepting the superintendency of West G. He and his family are very excited to be a part of the Chesterland/West Geauga School community.
Oct 2, 2012 Installation and Induction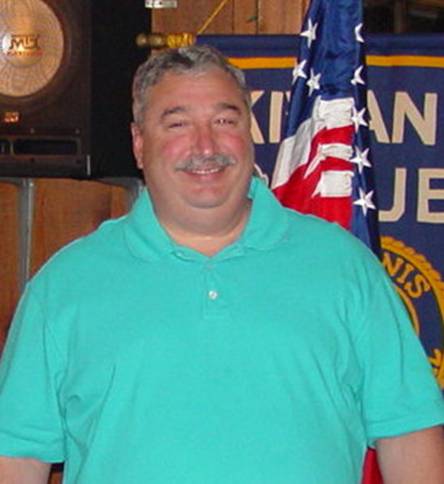 Doug Balzano
Doug is a firefighter and paramedic, but now happily retired after 33years in the fire Service (13 years City of Cleveland/20 City of Willoughby). He is a State certified Paramedic and Fire safety office. Also a level one Arson Investigator. He was a member of the Lake County WMD Team. The Hazardous Materials Team is made up of members from various fire departments throughout the county. Monthly drills are conducted at various locations in the county including large commercial and manufacturing businesses. The Lake County team is 1 of only 3 agencies in the State of Ohio that has achieved Level One Haz-Mat response capability rating. He was also a member of the Technical Rescue Task Force - deisgned to regionalize and coordinate specialized rescue response throughout the county. Beyond his work, he is probably best know to the local youth as the Assistant Freshman Football coach for 9 seasons at WG and is currently the Lacrosse Coach for the past 5 seasons. He says he has been happily Married for 26 years to his great wife Kay. They have 4 children
Greg 24: is an RN at Metro Hospital and Head Lacrosse Coach for West G
Alyssa 22: Accountant/Business degree from North Carolina Wesleyan
Jeff 21: currently Student at Walsh University in Nursing and Goalie for their Lacrosse Team
Scott 18: a senior at West Geauga going to Belmont Abbey College on a Lacrosse Scholarship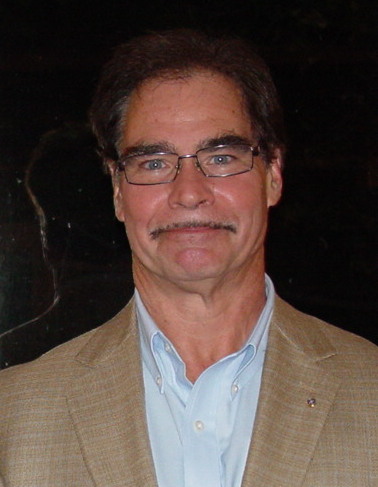 Doug McKinney
Grew up in Erie, PA, graduated from the University Of Pittsburgh w/BS in Life Science, moved to Cleveland in 1979, Doug is a professional recruiter. He joined United Consultants, and was top salesman/recruiter 3yrs running, He then joined Technical employment services, for 3yrs as Agency Manager/part owner, before starting Exclusive Search Consultants, a technical executive staffing firm he started in 1986, and which he still operates. He enjoys softball, and other professional supports, and working out. Word of caution - be prepared when he shakes your hand! In his application, the answer to the question "What prompted you to join Kiwanis?..."
was "Being asked"! He knows many of the members, but all it took was for one to ask! What does he see as the most important need in the community? "Advance in state of the art facilities,
amenities, restaurants in the community as a whole. Continue to reach out to youth, letting them know how much life they really have to live."
May 5, 2012 Induction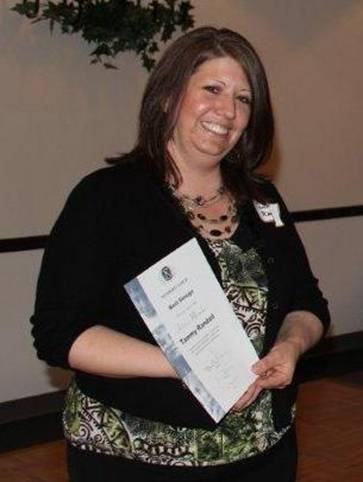 Tammy Randall
My husband, Wayne, and I moved our family to Chesterland a little over 5 years ago. I was attracted to the area because of the parks and wildlife, and just the overall beauty of the area. I have been employed at Progressive Insurance Corp since 1990, with over 14 years in management.
I am a wife and mother of 4 fabulous West Geauga students - Paige (17), Morgan (13), Wayne Jr., and Grace (8 year old twins).
My hobbies include gardening-flower and vegetable, scrapbooking and enjoying family time. I love to pack the kids up and take road trips to visit various tourist destinations around the state. My community volunteerism has includes serving my second year as the PTO President of our West Geauga Middle School.
My introduction to Kiwanis stemmed from a project and interest that I have in building an inclusive playground at Lindsey Elementary school. As a parent of a special needs child, I have a fast growing passion for positive advocacy for our children who need just a little extra help. As I learned about what it means to be a part of Kiwanis- the mission of building a stronger community and supporting our kids, I found it to be an organization that I am proud to join and support!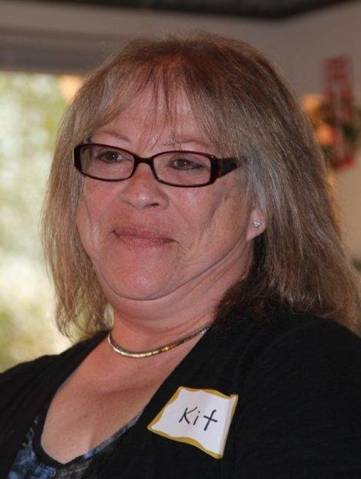 Kit McKinney
We have lived in Chesterland 48 yrs. I graduated from West G and worked at the Post Office for 13 yrs. I grew up showing horses, barrel racing and rodeos. I have worked fairs and festivals all my life – 16 yrs ago we bought 5 food concession trailers and hit the road hard. I am a fun, dedicated and hard working person who volunteers for Feed My Sheep (10 yrs), Clay Eddy Fields and Aktion Club (which I love).
Anyone interested in membership or information may call Ken Mantey at (440) 729-2869 or klmantey@earthlink.net